The Alexander Technique is taught in private, one-on-one lessons. The teacher works with the individual habit patterns of each student, and this naturally varies with every person.
The number of lessons, and their frequency, varies with the individual. To make substantive, lasting changes, an average might be about 30 lessons. This is only an average; individual factors including age and the state of being of a person when beginning lessons will naturally affect the length of study required. Fortunately, all that is really necessary is to begin. One lesson at a time…
Group introduction
A group introduction is sometimes the easiest way to bring the Alexander Technique into a particular environment. This may be at the office, community center, or school of music or dance. It helps people understand what the Alexander Technique can do for them.
See a list of special, free introductory classes.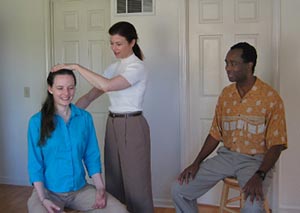 Workshops - full day or part day, attuned to your group's specific problem or need.
Classes on a variety of subjects related to Alexander Technique.
Informational talk/ demonstration for groups of any size.
Contact Dana to configure a program for your company or group's needs.